This post contains affiliate links. All opinions are my own.
You guys. Fall officially starts tomorrow and I couldn't be more excited! Last year, I shared my
fall wish list
with you guys and it was consisted of mostly Zulily products (if you're not on Zulily, you should be -
sign up here
). This year, my list will be mostly
Amazon
products with one
Dating Divas
product that I'm super excited about! You're going to love it!
So lets get to it, shall we?
ONE || Fall/Halloween Coffee Mugs
I'm loving this
Wicked one
. The back says "Don't make me call the flying monkeys!" Perfect! Also, isn't this
fall themed mug
so cute? I'm so ready for warm drinks to become the norm again. Don't you just love curling up with a good book and cup of coffee or hot coco?
TWO || Halloween T-Shirt
It's no secret that Halloween is my favorite holiday. I have a couple halloween t-shirts but they're old and stained. I need some new ones and this
Hocus Pocus one
is perfect. Also, Elphaba is my favorite so I have to have the
Flying Monkeys shirt
!
THREE || Fall Nail Polish
These
autumn OPI colors
are beautiful! I love switching to dark, rich colors in the fall.
FOUR || Combat Boots
I've been eyeing booties with crochet details for a couple years now. I don't know what it is about them. Maybe it's the masculine boots with feminine details. Whatever it is, aren't these super cute?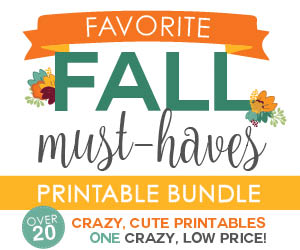 FIVE || The Dating Diva's Fall Bundle

What if I told you that The Dating Divas teamed up with 20+ other extremely talented designers to create the ULTIMATE fall bundle with ALL of our fall must-haves?! ANNND that we're totally hooking you up with a crazy, killer not-gonna-believe-this type of deal?!
Yep, that's right! They've gathered over 350 pages of printables for you, put them all in a fun bundle, aaaaand slashed the price! But you'll have to act fact because this is for three days only!
This is a 3-Day sale, but the price goes up a little each day. So, you can snag the whole bundle (a $200 value) for ONLY $15 today! but the price is going up tomorrow! Here's the breakdown...
Buy on the 21st for only $15
Buy on the 22nd for only $18
Buy on the 23rd for only $20

What are your must haves for fall? I wanna know what you gotta have!
Thanks for reading!
Follow me on social media: